Wooden sales booths and the possibilities for their use
Do you participate in fairs frequently? Considering a transportable point of sale? Or perhaps you organise or cater events? We offer a wide range of high-quality, easily transportable wooden sales booths. These products have a wide range of possible uses and many benefits, which we are going to introduce to you.
Wide range of uses for wooden sales booths
These products have a wide range of uses, yet they are most often chosen for various events and as points of sale because they are very easy to assemble and disassemble. Thanks to their compactness and easy transportation, you can often see such sales booths at Christmas, Easter, agricultural and other fairs. They are also used to sell a wide range of products outside supermarkets, in the market and other public places, and are a popular choice for temporary points of sale during a festive season.
Wooden sales booths can even spark a new business idea. In some countries, such as the UK, they have developed into mobile garden bars serving snacks and drinks. Such bars are often used near bodies of water, swimming pools, at parties and at various celebrations such as weddings and birthdays. Opened windows can be used as a bar or counter, and the sales booths can be decorated and painted in any colour you want. When not in use, the structure can be quickly and easily disassembled, packed back on the pallet and transported to the location of your choice.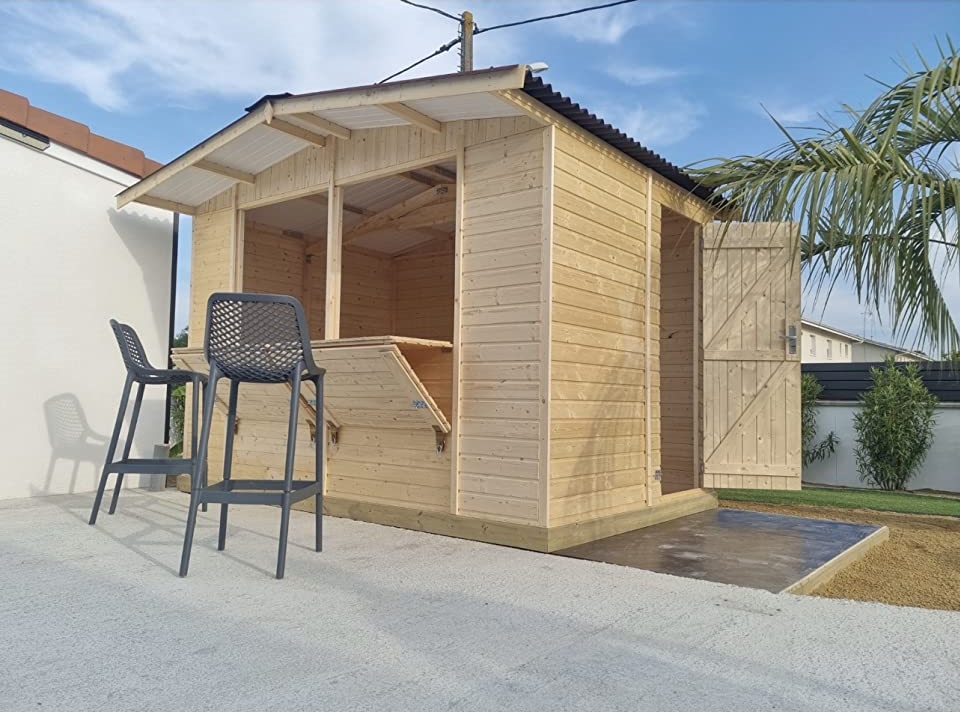 What kind of sales booths do we have?
Pre-manufactured wooden sales booths are available in two sizes – 4 and 6 square metres. The bigger sales booths have a different number of windows. Depending on your needs, you can choose between two, three or five windows (the latter being the most popular option). No need to worry about building the structure outdoors, as wooden sales booths are sold with robust floors and high-quality corrugated bitumen roof sheets. The sales booths are easy to assemble from individual 17 mm thick panels, and just as easy to disassemble and reassemble when needed. Thanks to the panelled construction, you can position the door wherever you want, and the wide counter can be closed and locked from the inside, so you can be sure that your belongings are stored safely.
Our wooden sales booths are robust, classically designed and can be adapted and used for a wide range of purposes. Take a closer look at our products and find the right one for you.