Store your belongings in LP® SmartSide®, the new generation of garden sheds
Can't find space for your gardening tools and equipment? There is no room for children's toys in your house and your bikes are taking over your garage? All this and more can be accommodated in the compact LP® SmartSide® panel sheds, which not only look beautiful and blend in with your environment, but also are very durable. The highest quality and durability are ensured by a new addition to our market – the weatherproof LP® SmartSide® panel.
LP® SmartSide® panel sheds
The multi-purpose sheds are not only modern and minimalist in design, but also perfect for your tools, bicycles, smaller gardening equipment or children's toys.
LP® SmartSide® panel sheds are made of 10 mm thick primed LP® SmartSide® wall panel, which has protection against fungi, pests, various weather conditions and moisture. During the manufacturing process, the panel chips are supplemented with protective agents to ensure the shed's resistance to outdoor conditions.
The sheds come with a highly durable and tailored for such needs LP® ProStruct® flooring and a waterproof 12 mm thick OSB-3 roof. Roof is covered with grey bituminous tiles. To ensure air circulation, the sheds have ventilation grilles.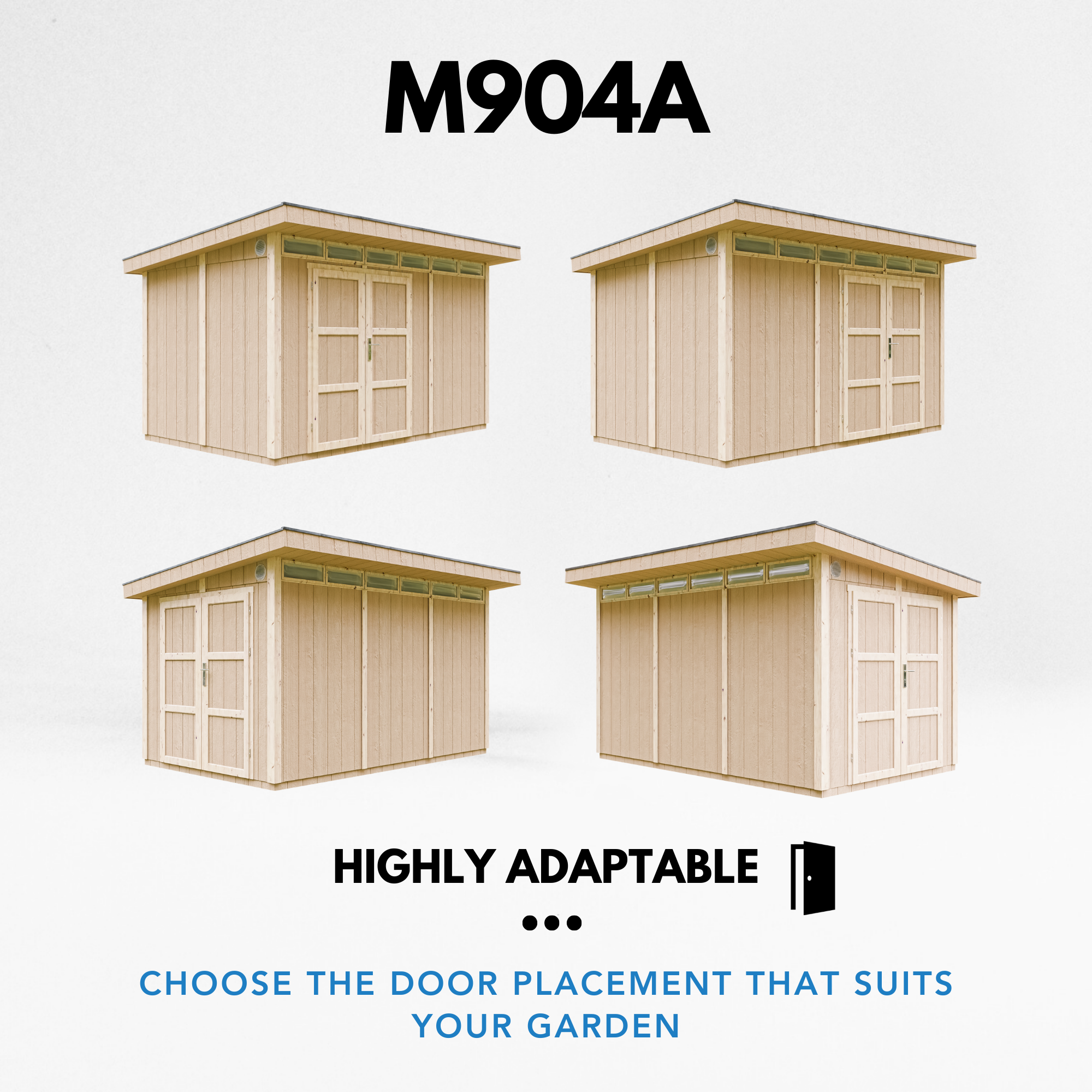 The wall panels and the wooden parts of the edging need to be covered with paint, so SmartSide® panel houses are sold with a specially selected paint kit – you just choose the colour!
LP® SmartSide® wall panel
For the LP® SmartSide® shed, a panel is used which is manufactured on the basis of the SmartGuard® process. As many as 4 protective components are used in the process to increase the panel's strength and resistance to deformation. The panel also becomes resistant to temperature fluctuations, moisture and other damaging factors.
First, the panel is coated with 3 times the normal amount of zinc borate, which provides protection against fungal and pest infestation. It is a harmless to humans material that helps to completely reduce the possibility of pests.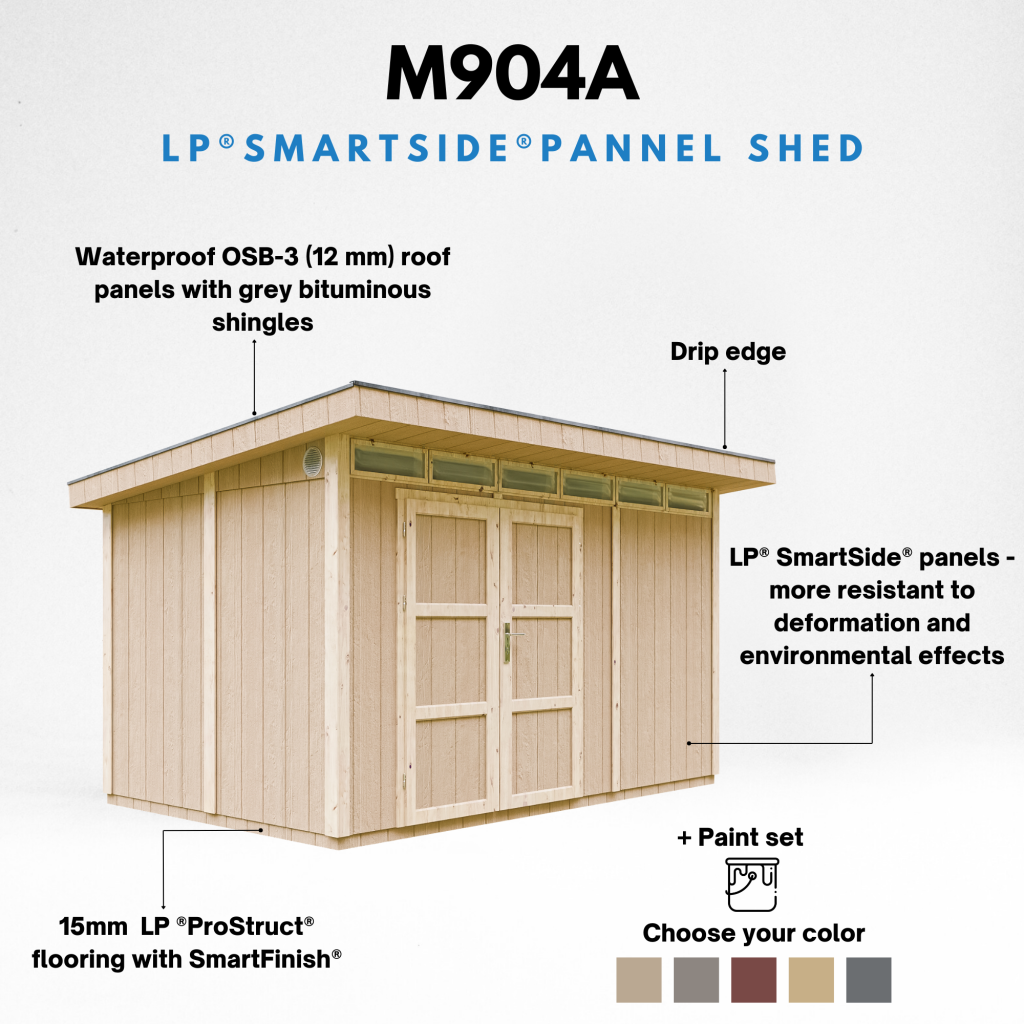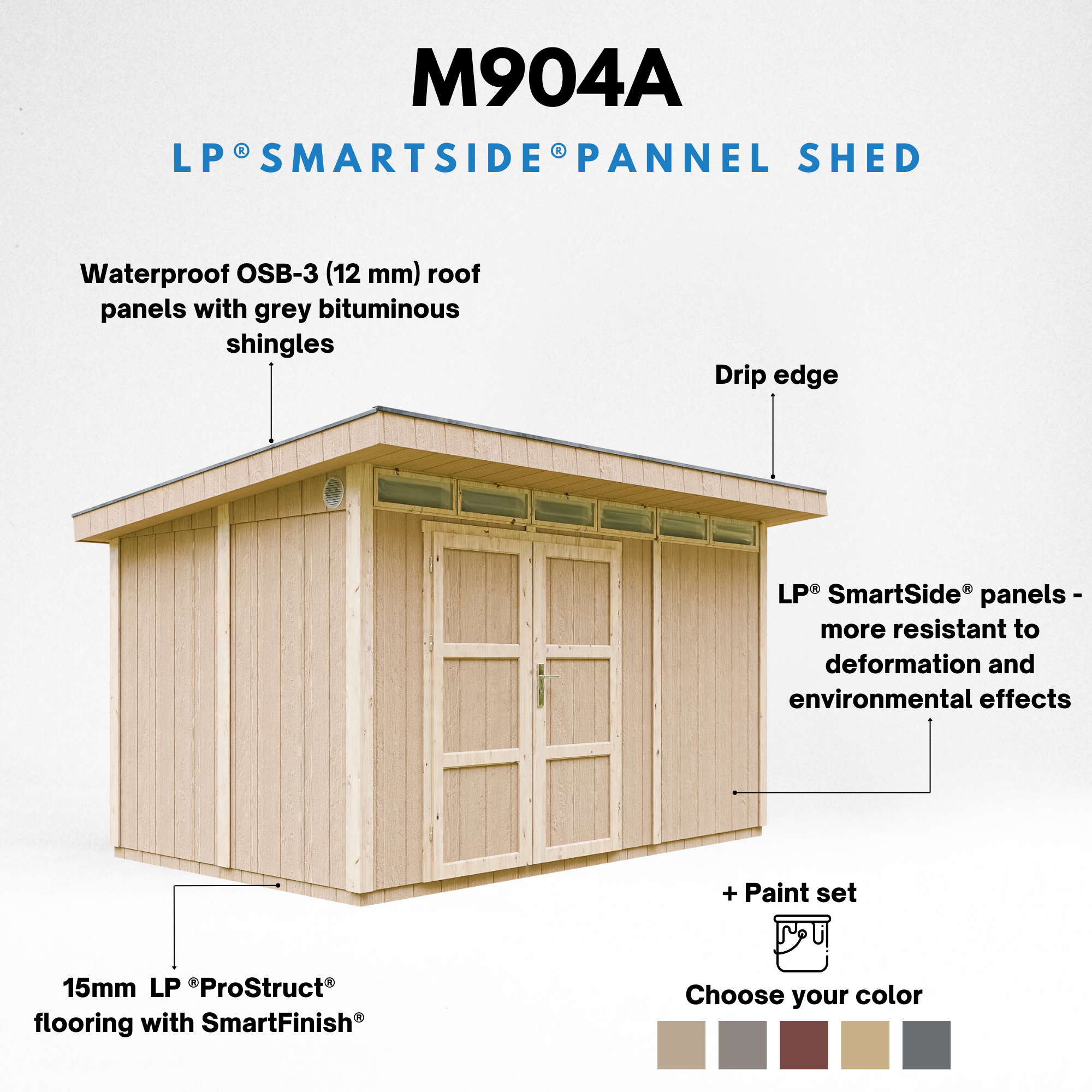 The second layer of the LP® SmartSide® panel is a marine epoxy resin, which provides greater resistance to mechanical impact and temperature fluctuations. This technology allows you not to worry about the weather, extreme heat or cold – the panel will not crack or split.
The third layer uses a waterproof wax, which covers the whole panel like a film. This process provides protection against moisture from rain and snow, preventing the material from rotting.
In order to retain all these advantages, the fourth layer is coated with a primer. This ensures moisture protection and creates a durable base for paint adhesion.
LP® SmartSide® is covered by a 15-year warranty and LP® ProStruct® is covered by a 10-year warranty! We are certain about the quality of our LP® SmartSide® panel houses, so choose your favourite option and enjoy it for years to come!