Outdoor furniture for children: how to choose the right ones?
As summer approaches, children and adults are increasingly attracted to go outside. Take care of the children's outdoor furniture in advance so that you can have fun outdoors with the children in case of unexpected good weather.
Children's outdoor furniture: why should you buy them?
Children spend less and less time outdoors. A rare child stays outdoors for more than half an hour a day. Children's (and parents') time is "eaten" by smart devices that add their have bright colors, interactive games and apps. It is becoming increasingly difficult for parents to engage and encourage their children to spend time outdoors, in the fresh air, which is essential for a child's healthy body.
Beautiful, colorful and comfortable outdoor furniture for children is a way to attract children to outdoor games and educational activities. A children's table with chairs will allow the child to play outdoors alone or with friends, engage in creative activities or eat.
Leisure time spent outdoors in the fresh air will not only strengthen the child's immune system, but also give the child a chance to forget about smart devices. Being outdoors improves immunity, speeds up metabolism, improves vision and replenishes the child's body with vitamin D, which is produced while enjoying the sun.
What to look for when buying outdoor furniture for children?
Undoubtedly, children's outdoor furniture must be safe to use, ergonomic, attractive to children and suitable for outdoor use.
Security
This is the first and most important point when buying children's furniture. Be sure to choose a table and chairs that do not have sharp corners, various protruding details, or drawers. Tables, chairs and benches with rounded edges will help children avoid minor injuries. Tables with drawers are unsafe because children can put their fingers in the drawer and pinch it.
For a child to feel comfortable and want to play outdoors, the furniture must be comfortable to use. Metal and plastic furniture looks beautiful and colorful, but in high heat they tend to heat up more than wooden ones.
It is recommended to avoid folding tables or chairs when buying outdoor furniture for very young children, as such tables or chairs may be unsafe to use. Folding furniture is less stable and can accidentally collapse.
There are additional safety requirements for children's furniture (furniture strength, material), so it is necessary to find out before buying whether a children's table or chair is certified and meets European safety standards.
Ergonomics
Ergonomic furniture is one that is comfortable to use. This means that it is comfortable for the child to sit down and get off the chair, and the table is not too high or too low.
| | | | |
| --- | --- | --- | --- |
| Age of children | Height of a table | Height of a stool | Space between chair and table |
| 2-4 year old | 45-50 cm | 25-30 cm | 20 cm |
| 4-6 year old | 50-55 cm | 30-35 cm | 20 cm |
| 6-8 year old | 55-60 cm | 33-38 cm | 22 cm |
| 8-11 year old | 60-65 cm | 35-40 cm | 25 cm |
The heights described in this table are suitable for the average child. They may not be suitable for your child. The basic principle when buying furniture for a child (and an adult) is to maintain certain rules of furniture ergonomics.
The first rule of ergonomics is that when sitting directly on a chair or bench, your legs should be bent at a 90-degree angle across the knees. Then measure the height of that chair / bench.
The second rule of ergonomics is that the table behind the chair should be 20-25 cm higher so that your child can keep his feet comfortably under the table and maintain a correct posture.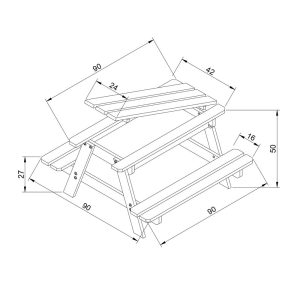 Attractiveness
Natural wood tables and chairs give the family a chance to be artists and paint their furniture in the playful colors they want. And when bored – repaint. An attractive, imaginatively painted table will encourage him or her to spend more time outdoors.
And you can give your child extra comfort by buying fun cushions for chairs or benches.
Suitable for outdoor use
Choose furniture that is described as suitable for outdoor use. Such furniture is usually much stronger and is protected from adverse weather conditions, the sun. If you choose the ecological option – a natural wood table, then do not forget to impregnate it. Special wood impregnants will allow you to maintain both the visual appearance of the table and protect it from moisture or microorganisms.
Be sure to read and follow the recommendations in the manufacturer's instructions. This will ensure that the furniture will be safe to use and will last for many years.
___
We hope this article will help you choose the most suitable outdoor furniture for children. We invite you to take a look at Timbela's growing selection of children's tables, and maybe you will find the right one for your child.