Maintenance of wooden sheds: what do you need to know and how to prepare for the winter?
To ensure that wooden garden sheds are durable and long-lasting, it is important not only to assemble them correctly for use, but also to continue maintaining them properly and to prepare them for cold and wet seasons. Dried wood used to make sheds has certain characteristics that can change depending on weather conditions and other external factors. It is therefore important to know how and where to build the shed, how to maintain it, and how to seal it properly. In this article, we will offer some expert insights and tips to help you ensure the long-lasting durability of your wooden shed.
How to properly prepare the shed for use?
If you are not going to build the shed immediately after delivery, the packaged product should be stored in a dry and dark place, without direct contact with the ground. This will protect it from direct sunlight and moisture. Before installation, make sure that the surface on which you want to build the shed is even. The preferred surface is hard and moisture-resistant, so concrete pavement, paving tiles or foundations are perfect for this. Do not place your wooden shed on the ground or on grass. When choosing its location, make sure that the shed will not be exposed to extreme weather conditions (strong snowstorms or winds and water flooding if you live near a body of water), otherwise you will need to attach it more firmly – you will need to use anchors to anchor it to the pavement.
Wooden garden sheds are delivered in their natural state and must be sealed with a waterproof wood sealer. We recommend to apply the sealer twice to protect the wood from cracks, sun and moisture, fungi, insects and blackening.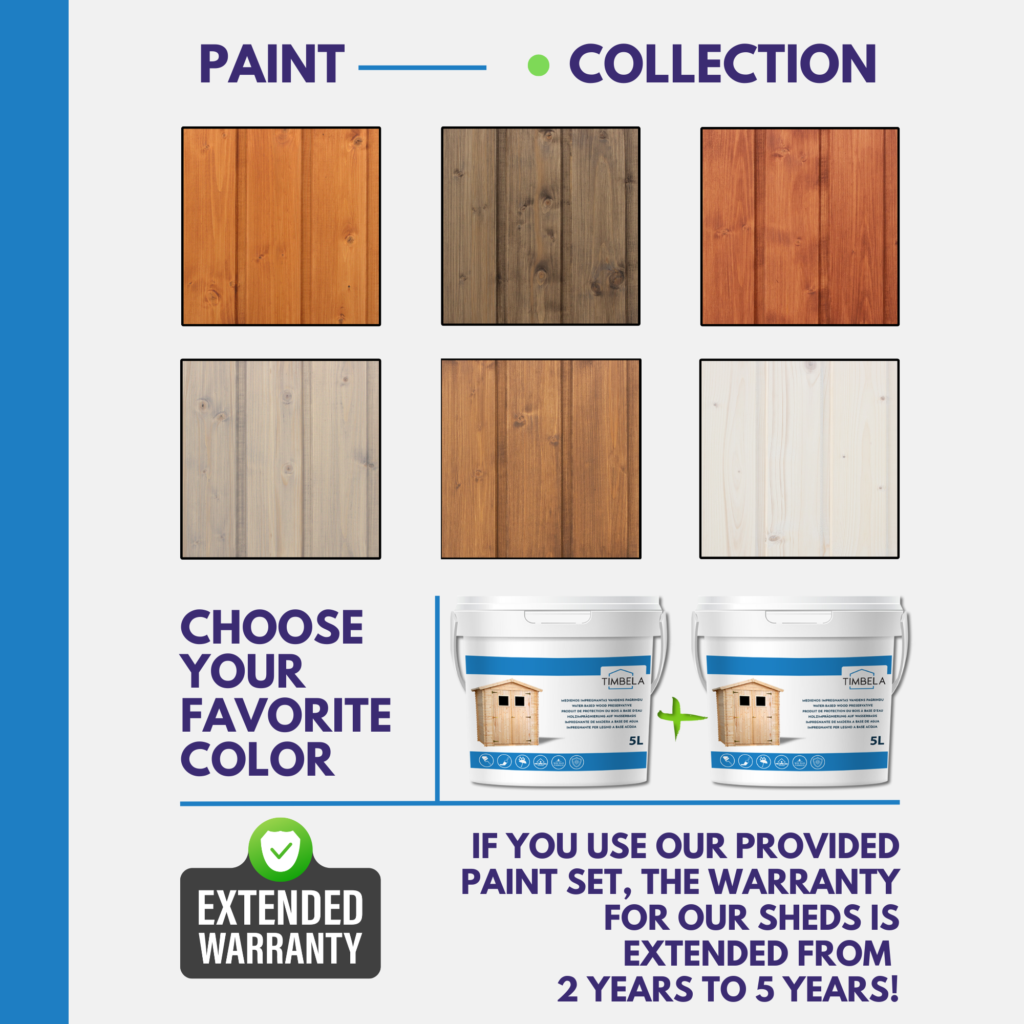 Please read the instructions very carefully before starting the installation of the shed to avoid mistakes when assembling and using the purchased product. Check that the package contains all the parts mentioned in the instructions and sort them to make the installation process quicker and easier.
All our sheds come with a 2-year (24-month) service warranty period for the replacement of defective parts. The warranty is valid only when the product is assembled in accordance with the instructions. In addition, if you buy our recommended water-based wood sealers and treat the wood with them before installation, you will get an additional 1-year warranty for the wooden parts of the product.
What do you need to know about wood?
Wood is a completely natural, recyclable raw material, so its properties can vary depending on natural weather conditions. Wood can swell or shrink, depending largely on humidity and temperature. If you notice small cracks or colour changes in the wood, don't be alarmed – these are not defects, they are natural characteristics of wood. The small gaps that appear between the slats are also a natural reaction of this material. After some time, if the wood is treated properly, this shrinking and swelling settles down. Unlike many other materials, it is not very cold in winter and very hot in summer. If the wood is not treated in time, it can turn blue or mould. To protect it properly, all wooden parts should be treated with a wood sealer as soon as possible.
How to prepare the shed for the winter?
If there is dirt on the shed, high humidity increases the likelihood of mould or moss growth, which can damage the wood. So before winter, when the weather is better, the shed should be thoroughly cleaned of dirt. If the shed hasn't been sealed, or was sealed a long time ago, it is necessary to seal the wood to protect it from external factors, moisture and UV rays.
It should be remembered that the roof of a shed also needs care. In the case of heavy snowfall, the roof must be shoveled, as water and snow can easily damage wooden structures if left for a long time, especially if the wood is not properly protected and prepared for adverse weather conditions. Therefore, we always recommend an additional layer of bituminous tiles on top of the grey standard bituminous coating to give the shed's roof extra protection.
Timely and proper maintenance will help to keep your shed strong and in excellent condition for a long time.
And if, after the cold season, you do notice any defects or damage to your shed, we would like to remind you that one of the main advantages of our semi-manufactured shed is that any part of it can be repaired or replaced.
Please take a look around our product range and choose the one you like best.