Buyer's Guide: 5 Tips How to Choose Garden Shed easy and quick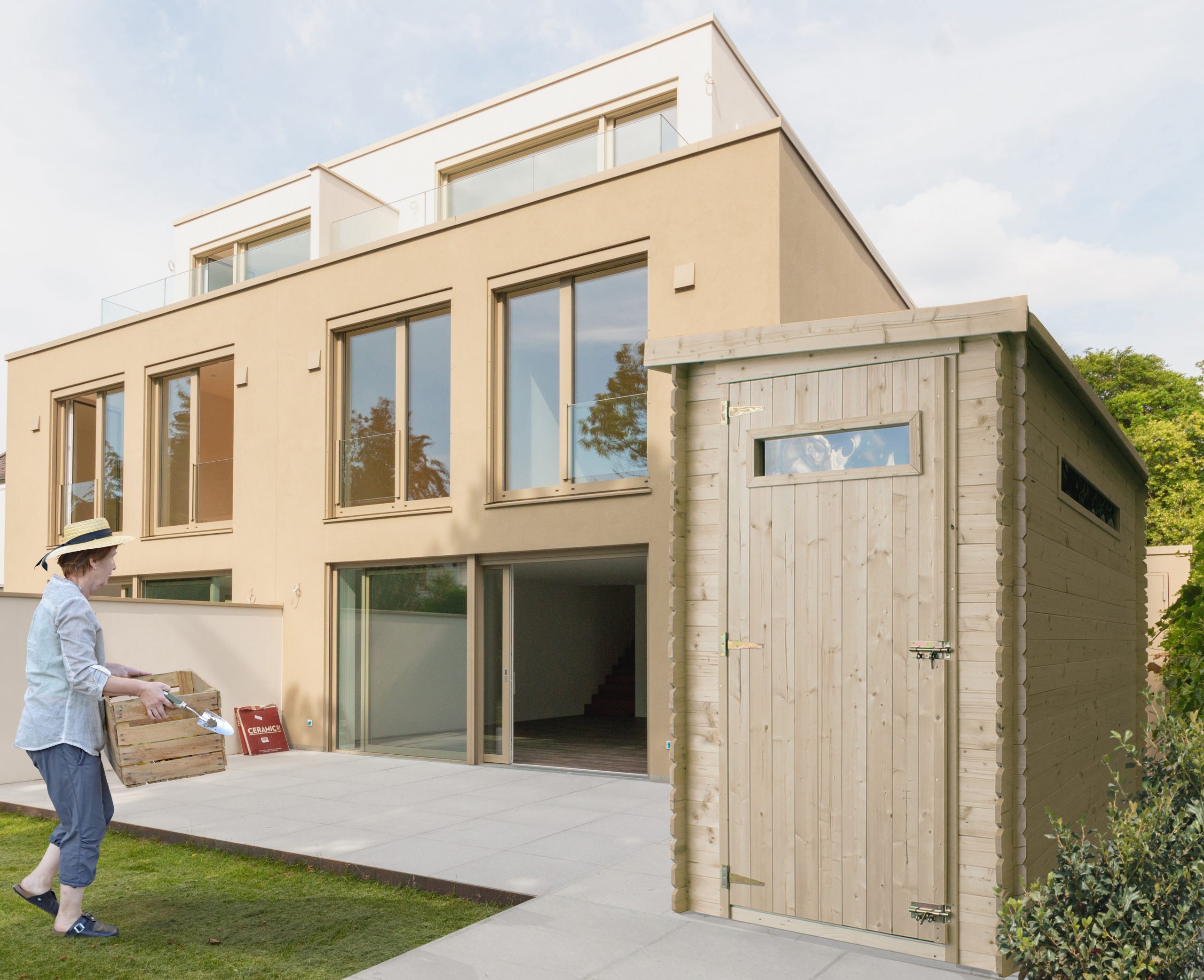 Non-residential wooden garden houses are becoming more and more popular in Europe due to their functionality and eco-friendliness. The space in a residential home is expensive, so items that are of little value or do not require special maintenance do not necessarily have to be kept in the home. They will fit perfectly in an outdoor storage shed or garden house. Wooden garden houses are a cheap way to get extra space to store your accumulated property.
However, how to choose THE ONE that will serve for long time, will fit all your belongings, but at the same time will be compact enough not to take up all the garden space? We hope these tips will make it easier for you to choose a functional house for your belongings.
Tip 1: Find out what functions the garden house will have to perform
Before looking at garden sheds / houses, we recommend that you consider how you want to use it. If you want to keep only a few garden tools and a bike you will need a smaller house than those who want to keep a lawn mower, garden furniture, bicycles, firewood.
Consider the possible uses of the cottage: storage, car / motorcycle / bicycle garage, garden office (use as a work / hobby studio in the warm season). Take time to think about what you want from your new garden shed. This purchase will serve you for years to come, so it's important to choose one that will meet your current, and perhaps even future, needs.
A non-residential garden house can perform many functions – storing garden tools and garden furniture. It can also be converted into a "garage" of various equipment – the mower, bicycles, motorcycles will fit perfectly, and if you choose a garden house-garage, you can even store a car. The possibilities of using wooden garden houses are endless.
Tip 2: Choose a garden house size
You will find a variety of garden houses – from extremely small (smaller than 1 sq. m) to big (20 sq. m.). When choosing a house size, it is important to consider two things: where the house will be situated (how much space can be allocated to it) and how many items will be stored in it.
We all know how quickly closets, rooms and storerooms fill with things, so if there is enough space in the garden for a cottage of any size, choose the largest one. In this way, you will invest in a much more functional cottage, which will have enough space for many years. Think about what items and what dimensions you plan to keep in the cottage, and choose a building of appropriate size, height, and door width.
If you have little space in the garden, but need a large storage space, we suggest you consider buying a house with three walls, and use the wall of a residential house instead of the fourth wall. This type of cottage will be cheaper than a standard four-walled cottage and will save a lot of space.
Before buying a cottage for an extremely small space, be sure to examine the exterior dimensions of the cottage. Sometimes the names say that the cottage is "2×3 m", but this does not mean that the cottage is exactly that size (it can be bigger or smaller). Also consider the external protrusions of the hut – the handles, the joints of the hut (especially those made on the principle of intersection), the roof ledges, etc.
Avoid building houses under or near the trees, as strong winds can break the structure of the house due to the movement of branches or a broken branch. Also, when choosing a cottage, pay attention to the size of the cottage door and how it opens. Choose a place for the cottage so that the windows are not obscured by fences, plants, and the doors open easily.
Tip 3: Consider the price
As a rule, a quality item costs more, so when you start looking seriously for a house that meets your personal needs, we recommend planning a budget not only for the purchase of the house, but also for its construction and maintenance. An established budget and clear needs will make it easier to select suitable candidates.
Obviously, the bigger the cottage, the more expensive it is. But at the same time, the larger the cottage, the cheaper 1 sq. m, which means that once you invest a little more money – you can buy a cottage that will serve and will be useful for longer.
When deciding to buy a garden house, it is important to consider not only the price of the house, but also to take into account that there will be additional transportation costs and it may cost to assemble the house if you plan to hire proffesionals to do it. If the cottage will be purchased without a floor – it will be necessary to specially prepare the pavement under the cottage. Also, for a building to last for years, it will be necessary to cover it with one or two coats of impregnant or paint.
Tip 4: Consider the design of the cottage
There are two types of prefabricated wooden garden houses: panel houses and houses made of interlocking (or intersecting) wood. Both types of cottages have their advantages and disadvantages, so they are worth considering and choosing the most suitable and beautiful for you.
Panel garden houses: advantages and disadvantages
Panel garden houses are assembled from already made panels / walls, which are fastened with screws and the joints are reinforced and covered with decorative strips. The weight of boards in non-residential garden houses can vary from 11 mm to 17 mm. The prefabricated roof is placed on the assembled house, and the corners are covered with screwed decorative strips.
Advantages:
– Suitable for building yourself.
– Installation of panels is simpler and faster than in the case of houses made on the principle of intersection.
– The location of the house windows can be changed during assembly.
Disadvantages:
– Not as durable as houses made on the principle of intersection.
Houses that are made on the principle of intersection: advantages and disadvantages
Houses made on the principle of crossing are very popular for their appearance. Their walls are made of prefabricated wooden planks, the long part of which has ridges and grooves, and at the ends of the boards there are special notches that strengthen the house. The boards are built into each other.
The thickness of the wooden planks is usually about 16-19 mm. The wooden planks protrude a little over the edge at the corners, but that only adorns the cottage's design.
Advantages:
– Suitable for building yourself.
– Sufficiently short construction time.
– Stronger construction than panel houses.
– By naturally expanding or shrinking the wood, the house retains its strength and stability.
Disadvantages:
– Doors and windows cannot be modified.
– It is necessary to impregnate both sides of the planks.
Tip 5: Consider the details and accessories of the house
Different styles and sizes of sheds can offer different combinations of details and shed accessories. When choosing a house, it is important to pay attention to whether the house is sold with a floor, how many windows and doors it has, what size windows and doors it has, whether the house is with a lock, with what roof and other small nuances.
The floor
Some sheds are sold with floors, others without.
A shed with a floor is not always necessary. If you use the house as a garage for a car, motorcycle or garden equipment, then we recommend installing a solid pavement and choosing a house without a floor. Heavy garden equipment or vehicles can break the floor of your shed.
The garden house with a floor is convenient to use if you do not have the opportunity to install a stronger tile or gravel floor. The wooden floors of the house must be impregnated to last a long time and protect your belongings from moisture and other environmental factors.
Windows and doors
Garden sheds, storerooms and garages usually have at least one window. The larger the cottage, the more windows it will have. When choosing a cottage, pay attention to how much light you need. If you want to hide your equipment from prying eyes, then choose cottages with as few windows as possible.
Larger windows and wide doors will allow more light to enter the cabin. This is especially important if you do not plan to install lighting inside.
Garden offices that are designed for work or leisure will usually have good quality doors with larger windows and large windows that open to allow as much natural light and fresh air as possible into the cottage.
When choosing a house, it is important to pay attention to the quality, functionality and size of the door. If you pay attention to the houses we make, you will see that we produce two types of doors – simple, made of solid planed boards, and doors made of longitudinal joint wood (also known as finger joint). Doors from  longitudinal joint wood have greater resistance to moisture and deformation, and are lockable.
Roofs
Garden houses can be made with a sloping or flat roof.
Pitched roofs. The advantage of pitched roofs is that they have a tilt angle that makes it easier for water or snow to drain from the roof. Water or snow standing on wooden structures can damage them, especially if they are not adequately protected from adverse weather conditions. Typically, the roof in garden sheds can have one slope or two. The classic two-slope roof has 2 roof panels that connect. They form a triangular point along the center of the roof. The door is usually located under one of the pediments.
The sloping roof allows the hut to store taller garden equipment or tools. The disadvantage of a pitched roof is that if you want to build a house under the trees, it may not fit or you will need to prune the trees to place the house safely.
Flat roof. Its advantage is that it does not take up much space and allows the cottage to be built practically anywhere. A flat roof will require more maintenance during the winter season, because in case of a lot of snow – it will be necessary to remove snow from the roof to prevent it from breaking. Cottages with a flat roof are lower than those with a sloping roof, so they can be uncomfortable to use for tall people.
We hope that these tips will help you to pay attention to the important elements of the cottage and make it easier to choose the right size and type of cottage to store your precious property.