7 reasons why wooden garden houses are the best choice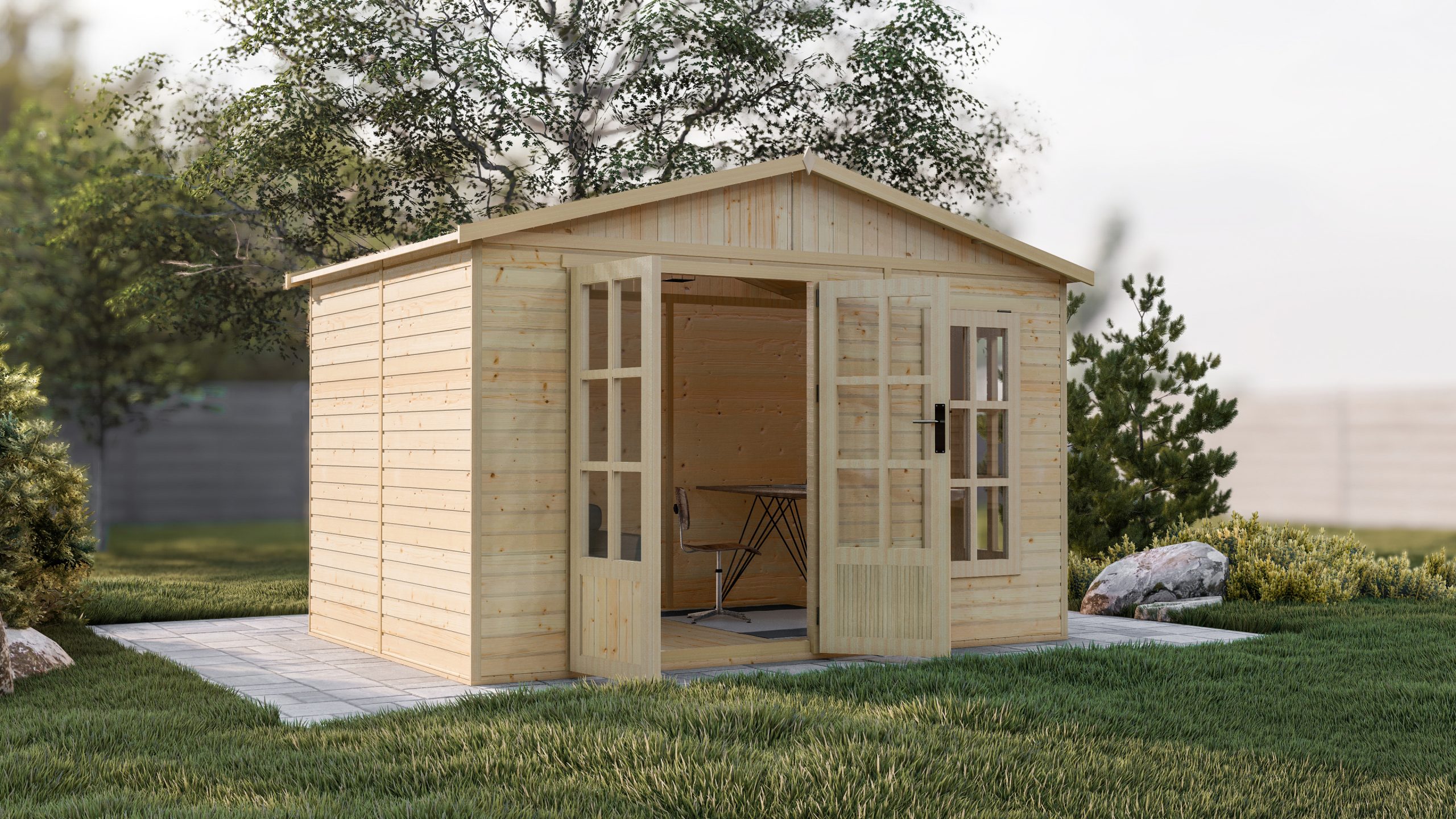 There is currently a large selection of garden / shed houses on the market in a variety of sizes, materials and colors. In our opinion, the best material for garden sheds / houses is wood. Don't believe it?
There are many reasons why it is worth choosing wooden garden houses, but these seven are the best of the best.
Advantages of wooden buildings
Ecology and health
Wood is a natural, environmentally friendly product that not only does not emit any harmful substances, but even neutralizes toxins in the air. Meanwhile, a material such as plastic, when heated, not only emits toxic substances for humans, but also softens or fade.
From an ecological and environmental point of view, no material can compete with wood. Forests are constantly renewed, so the damage to the environment is kept to a minimum, and the materials (waste) left over from the cottage production process are recycled.
Although wooden tool and storage houses are not made for habitation, the properties of wood will ensure that the house is comfortable to use in any season – in high heat the house will not heat up as much as metal or plastic houses, and in winter it will be warmer (due to low thermal conductivity).
Easy to assemble/disassemble / move
Our wooden houses are built on the principle of intersection or panel construction. Both types of cottages can be easily be assembled and, if necessary, dismantled and moved to another location. Compared to metal or concrete constructions, they are much lighter and "more flexible" to move.
A wooden house must be installed on a specially prepared base, but due to its lightness and plasticity – the base does not have to be very expensive and strong. The cottage is light, so it does not tend to dent and is not afraid of deformation of the base.
The construction of such houses does not require any special building permits, as they are classified as simple buildings.
Structural stability and durability
Wooden structures are stable because they are securely and firmly connected to each other. They do not need to be reinforced with additional tools or materials. Both the panel house and the garden house assembled on the principle of crossing are built quickly – within one or two days, depending on the experience of a builder and the size of the house.
Proper assembly and impregnation of a wooden house will ensure a longer service life of the house. Three things that are important for any type of home: excellent roof waterproofing, a dry foundation, and quality wall protection with impregnation from moisture and pests.
Impregnated wood with a special paint (with flame retardant) is less flammable, so if there is an increased risk of fire – choose impregnating materials that will increase the fire resistance of the house.
Natural wood is alive and breathable. It is a hygroscopic material, which means that the wooden walls of the house regulate the humidity on their own (they will absorb moisture and release it into the environment). Many attribute this property to the disadvantages of wood, but this property is what makes wood really valuable. In the presence of moisture, the wood expands, thus ensuring that no moisture enters the interior of the house, and when left dry it leaves gaps that create natural ventilation in the house.
Easy to update / restore
The wood is distinguished by the fact that it is easier to renovate and repair, as the wood and other parts of the cottage are easily accessible to buy. You can easily replace a damaged plank, roof or door. If you get bored of the paint or it peels off, you can easily repaint the house with new colors. If the plastic house breaks or fades, you can not repair or repaint it.
Creates harmony and a state of calm
Researchers have found that a room containing natural wood improves people's mood. The wooden construction looks harmonious in nature. It blends in perfectly with the natural, rural or garden landscape. Wood and its products psychologically affect our subconscious – we want to touch natural wood, admire its unique patterns, enjoy its pleasant aroma. We recommend impregnating the interior with translucent color impregnants so that you can enjoy the eye-pleasing warm wood colours and unique wood patterns.
A timeless classic
The tree looks aesthetically beautiful. Wood and its products are not fashion. It is a natural building material that has always been popular and its demand will definitely not decrease.
Wooden buildings can be adapted to any exterior. Unprocessed pine / spruce sheds come in light color that needs to be treated to last longer. If you want to keep the house in natural wood color – just impregnate it. However, if you want to give your yard or garden playfulness, you can paint it in any color you choose. A Scandinavian-style gray cottage with white shutters, edging and joints will look great in any yard / garden.
Economy
The wooden structure weighs little (compared to other materials), so it does not require an expensive base. The materials of the cottage and maintenance is not expensive.
As already mentioned, you will assemble a wooden house from wood quickly, which will save a lot of valuable time. Medium-sized garden cottage of 8-10 square meters will take about 1-2 days to build.